You can use Attentive's exit intent feature to help recover otherwise lost subscribers and turn them into customers with a reminder and incentive. We track a visitor's scroll behavior and mouse movement and trigger an exit intent reminder to appear at the pivotal moment they're about to leave your website.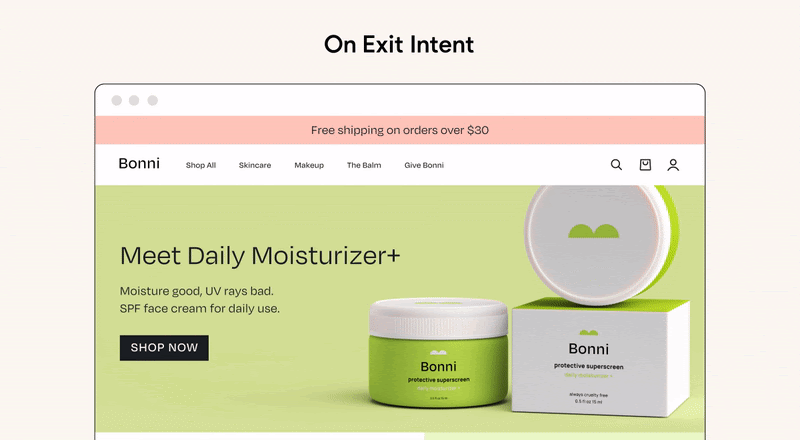 The following best practices can help you optimize your exit intent strategy to increase conversions and capture site visitors before they leave your site.
Reduce cart abandonment

Drive visitors to complete their purchase by offering a final reminder and incentive.

Pro Tip: Program exit intent sign-up units to appear on your checkout page. Show a sense of urgency with a message that encourages the visitor to act immediately, such as:

Limited time offer
Before you go
Finish your order
Last chance
Save an extra 5%

Note: If you use the Shopify integration and want to add an exit intent unit to a checkout page, make sure you have set up the Attentive Tag.
Target final reminder offers on specific products

Offer exclusive last chance incentives for particular products using URL allow/block lists across various product pages.

Pro Tip: Program your exit intent sign-up unit to appear on a particular product that you'd like to offer a higher discount on by whitelisting that specific URL.
Grow your community

Capture the attention of visitors who aren't interested in purchasing just yet, but remind them to sign up to learn more about upcoming product launches, discounts, and more.

Pro Tip: For non-incentive brands, this can be a great way to encourage visitors to subscribe and join your fan community.
Maximize your list growth
Exit intent is a great way to gain even more subscribers on any pages where you don't currently display any sign-up unit. Engage visitors when it matters most by programming your sign-up unit to appear across all your eligible pages.
Pro Tip: Program your bubble sign-up unit to also have an exit intent trigger, which will automatically expand it when a user is likely to leave the page. Don't forget to include a sense of urgency in your message like "last chance."

Interested?
Create optimal on-site experiences and capture the attention of otherwise lost subscribers with exit intent. Contact your Attentive strategy team to set this up today.