This article assumes that you've already onboarded with Attentive Concierge™ and understand how Concierge works. If you haven't yet, you may want to check out the following before proceeding:
On the Concierge Settings tab, you can configure an email address where Concierge agents can escalate conversations, set up link tracking, and control which offers agents can send to subscribers.
Escalation email
Set at least one email address where we should send conversations that Concierge agents escalate.

You can set up to 10 escalation email addresses. They can be individual email addresses, like you@yourbrand.com, as well as aliases, like support@yourbrand.com.
When a Concierge agent escalates an email, you should reply directly to the email. Your Concierge agent will make sure the subscriber sees it.
For more, check out Concierge escalation best practices.
Link tracking
Optionally, you can append each link that Concierge agents send to subscribers with a UTM.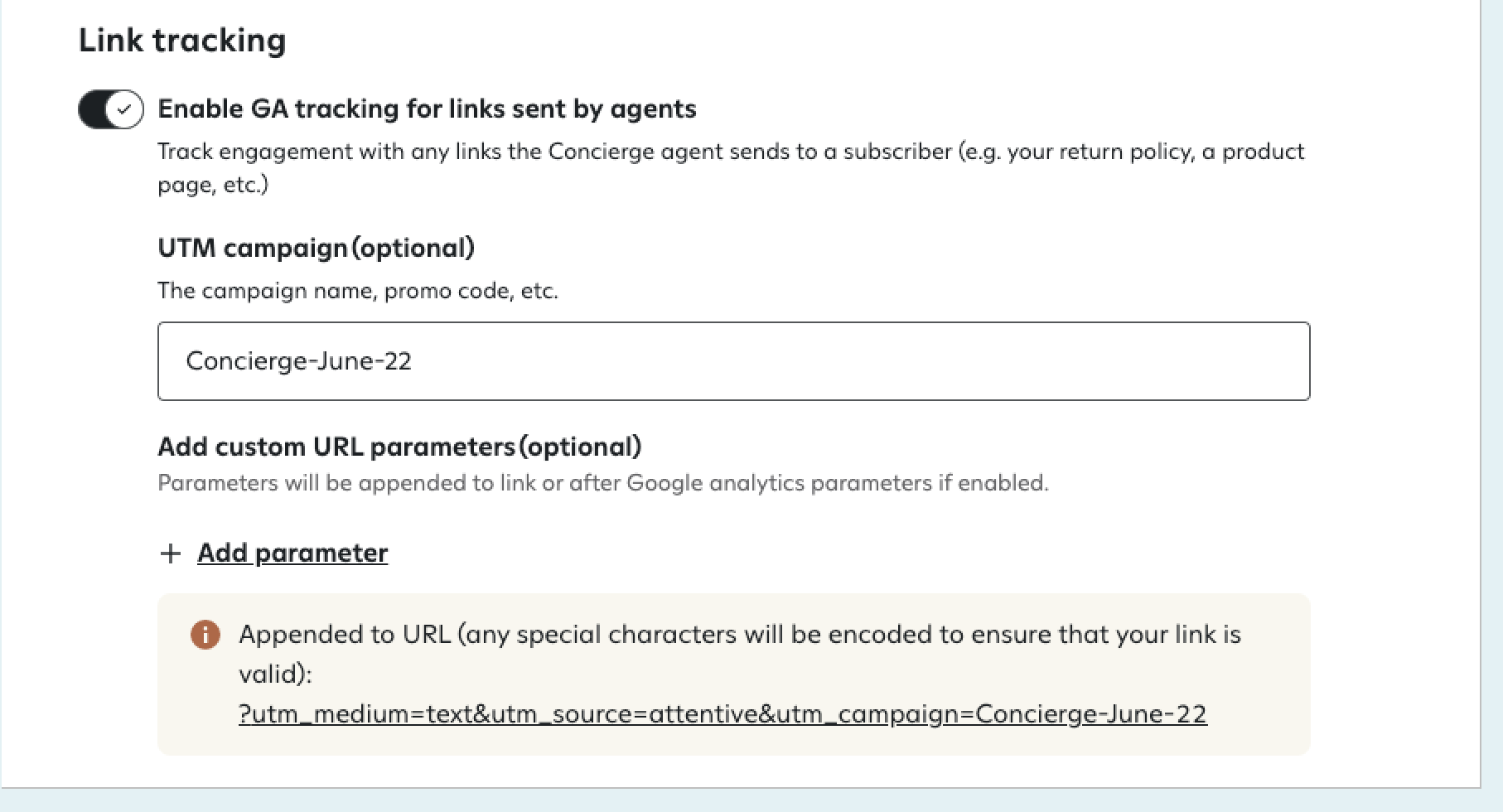 You'll get the best results if you create a new UTM for only Concierge agents to use, but you can use an existing UTM if you prefer.
To add tracking to links sent by Concierge agents:
On the Concierge Settings tab, make sure Enable GA tracking for links sent by agents is enabled.
(Optional) Enter a UTM campaign name.
(Optional) Click Add parameter to append additional UTM parameters.
Click Save.
Incentive configuration
Set whether or not Concierge agents can send subscribers an offer or incentive to help turn conversations with subscribers into sales. Note that Concierge agents can only send the offer you specify here.
Note: Optionally, you can set different offers on a per-journey basis. If you add an offer to a journey other than the one you specify in Concierge settings, Concierge agents will only be able to send the offer selected for that journey.

As with link tracking, you'll get the best results and have an easier time evaluating Concierge agent performance if you create a unique offer for them to use, but you can use an existing offer too.
For more on offers, check out Create offers.
To allow Concierge agents to send offers:
On the Concierge Settings tab, make sure Enable agents to send offers is enabled.
Click Attach an offer.
Click Create a new offer, or click Select next to an existing offer.
Click Save.
Note: After the offer is added, you can edit it by clicking the pencil icon on the offer or remove it altogether by clicking the X.
Configure Concierge for campaigns
By default, Attentive Concierge is enabled for your campaign and journey messages. This routes subscriber responses of specific Campaigns or Journeys to a Concierge agent. Deactivating Concierge for campaigns removes Concierge capabilities from all campaign messages.
If your Concierge program is enabled for campaign messages, you can view the percent of subscribers who responded to each message.
Follow the instructions below to deactivate Concierge for campaigns. You can repeat these steps at any time to re-activate it.
Go to Conversations > Concierge.
On the Settings tab, click the Enable Concierge for campaigns toggle. This deactivates Concierge for your SMS campaigns.
Click Save.
On the confirmation popup, click Continue.