From the Subscribers tab, you can access subscriber information, including:
Contact and location information
Current subscription status and message eligibility, including opt outs
Offers sent to the subscriber
Link to previous SMS conversations
Message and site activity
Associated custom attributes collected by Attentive
You can use this data to optimize your marketing touchpoints and deliver more personalized experiences to your subscribers.
Search for subscriber profiles
From the Subscribers tab, use the following filters to search for one or more of your subscribers:

Search bar: Enter the phone number and / or email address.
Segments: Select a segment from the drop-down to display all subscribers in that segment.
Statuses: Select from the following statuses to display all subscribers with that status:


Eligible / Ineligible: Subscribers who are or aren't eligible to receive messages.
Opted out: Subscribers who have opted out of one or more subscriptions.
Not yet joined: Subscribers who have shown intent to receive messages, but haven't confirmed their subscription (i.e., replied Y)

More filters: Click More filters to apply any of the following filters to your search:


Sign-up date: Subscribers who opted in to receive messages within a specified time period.
Location: Subscribers from specific states.
Purchase: Subscribers who have or haven't completed a purchase.
Click: Subscribers who have or haven't clicked a link in a message.
Access subscriber-specific details
When you find the subscriber you're searching for, you can click View conversation to access this subscribers' previous SMS conversations with your brand. You can click on their profile to view their status for all of the filters listed above, and their custom attributes. A panel appears with the summary. Click View full profile to access the full profile view.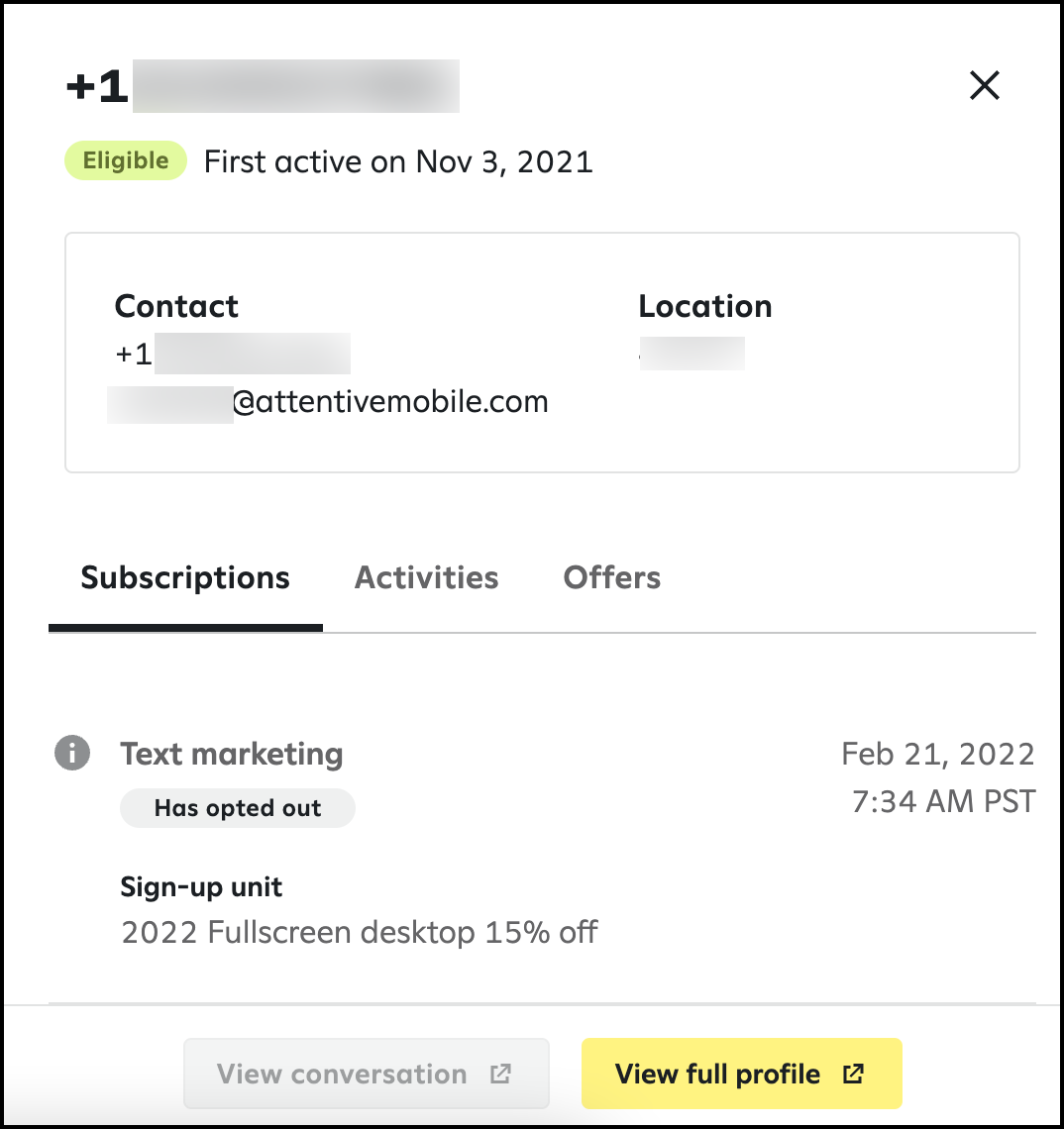 Subscriptions
The Subscriptions tab displays the subscriber's subscription details, including:
Subscription channels: Whether the subscriber receives your marketing via email, SMS, or both.
Status: Whether the subscriber is Eligible / Ineligible to receive messages, has Opted out, or has Not yet joined.
Sign-up unit: Where the subscriber opted in to messaging, including: on-site placements, API, checkout, or manual uploads.
Sign-up date: The date that the subscriber signed up to receive messages from you.

Activities
All subscriber activities display on the Activities tab by default. You can filter these by text, email, or shopping activities from the dropdown menu. Every activity has a date and time attached to it.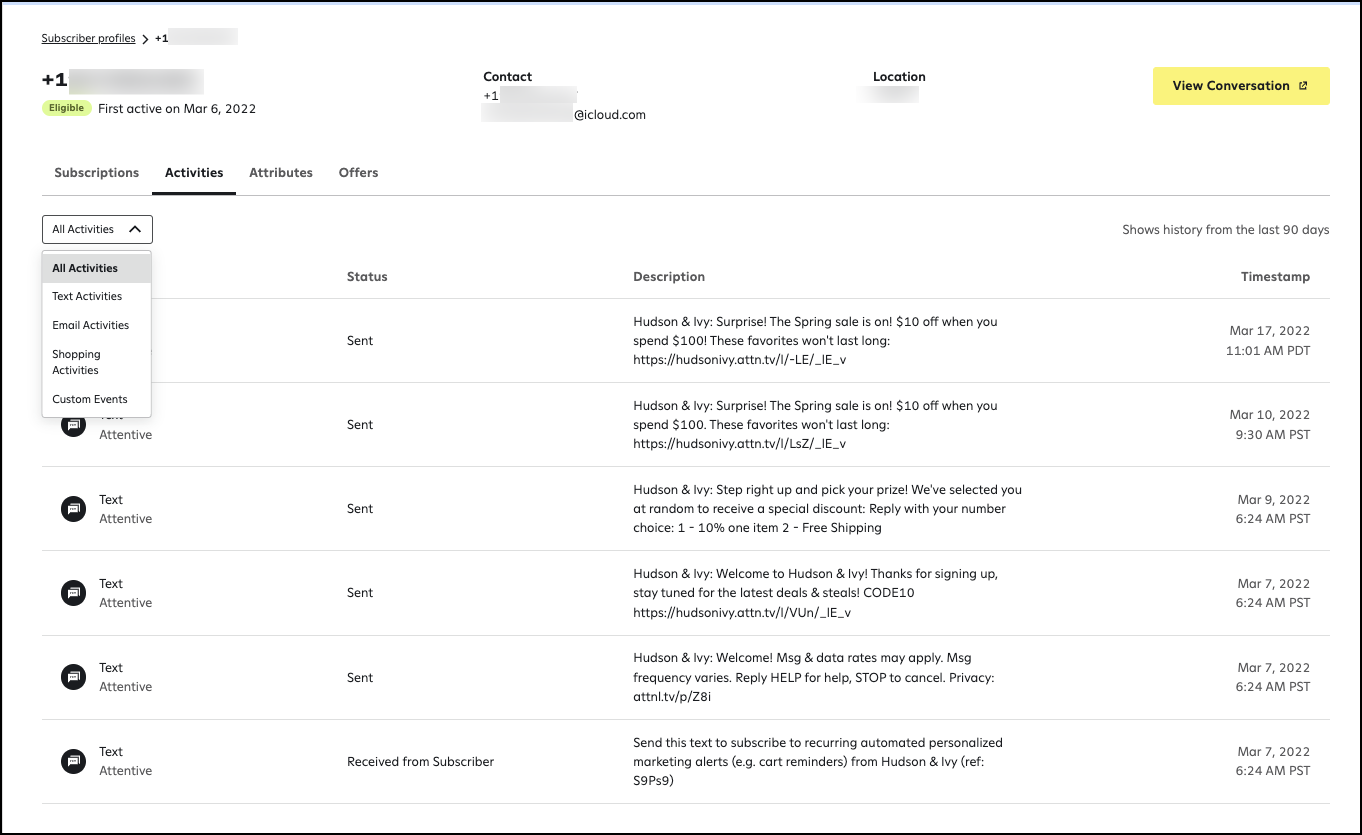 Attributes
On the Attributes tab, you can view a subscriber's attributes grouped by type. Every attribute includes the attribute value, the date the attribute was collected, and the method by which the data was collected. The attributes shown here are a combination of those created by you and those created by Attentive.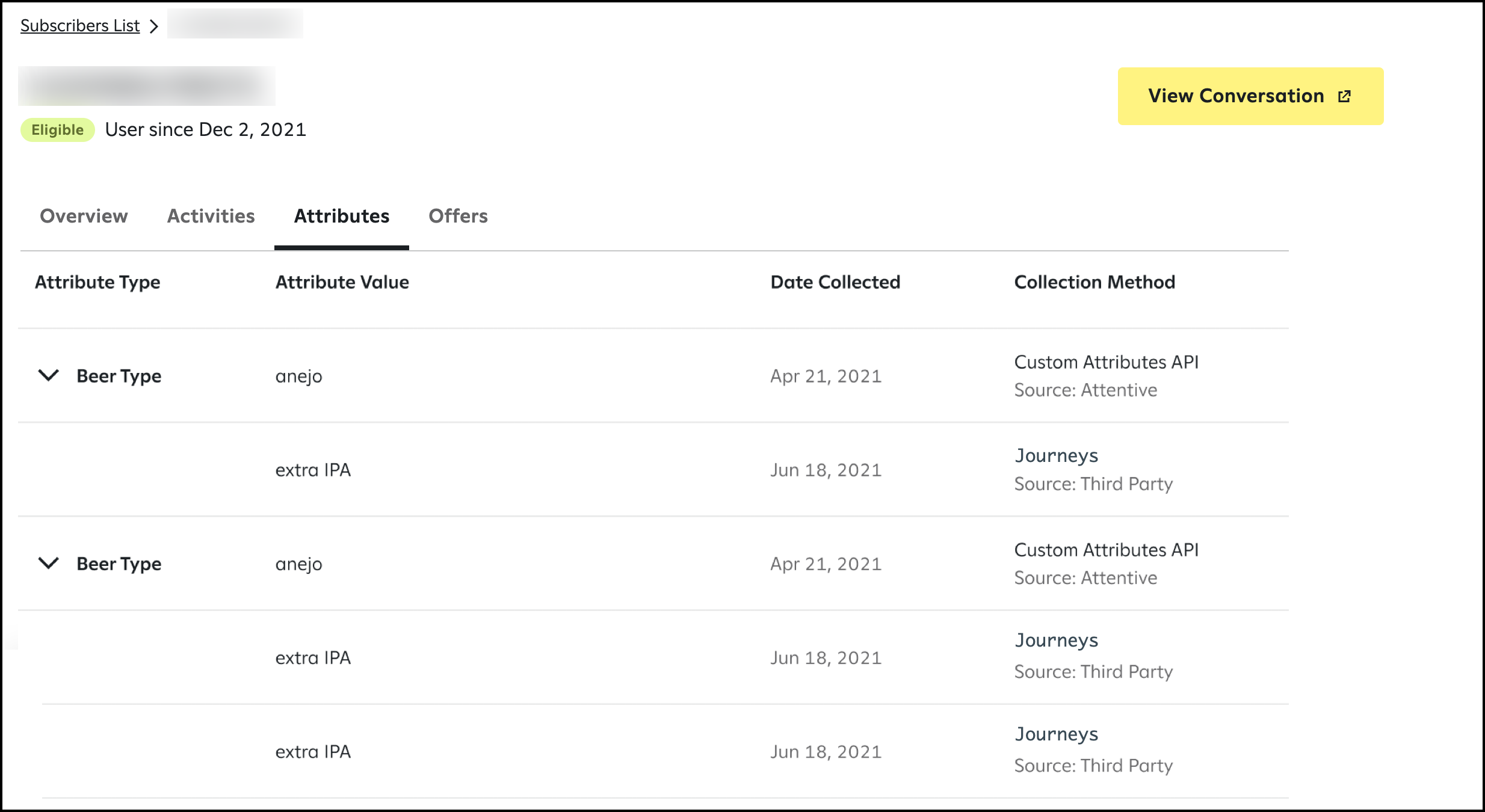 Offers
The Offers tab displays all offers that this subscriber has used.