What can I do using sign-up units?
You can do all of the following:
View, copy, and edit your existing sign-up units
Create and design new sign-up units
Manage and assign offers and welcome journeys to sign-up units
Build confidently knowing our tool is built with compliance in mind and will automatically check for ADA compliance and maintain audit trails
What if I experience issues? If something is broken?
If you experience any issues while using sign-up units, contact our White Glove team (whiteglove@attentivemobile.com). Your feedback is invaluable in helping us build better products.
Can I run an A/B test of my sign-up units?
A/B tests are available to preview within the Attentive platform, but you can't edit.
If you would like to run an A/B test of your sign-up units on your website, contact our White Glove team (whiteglove@attentivemobile.com).
What are shared, unique, and Shopify auto-gen discount codes?
What are display rules?
Use display rules to allow or block where you want a sign-up unit to appear on your website. Display rules include pop-up timer, scroll delay, exit intent, and more. See Set display rules for more information.
To edit any locked display rules, contact your client strategy manager or White Glove.
What is exit intent?
Exit intent is a display rule that lets you convert visitors who are about to leave your website into buyers by displaying a final reminder. You can also include an incentive and/or offer. The goal is to convert these visitors into email and SMS subscribers. The exit intent display rule can also be useful if you are concerned about the effects of showing a sign-up unit immediately on your site, as you can set it to appear only if a user is about to abandon the site.
Attentive tracks website visitors' behavior and mouse movement and detects the exact moment they are about to abandon your checkout page or leave a specific product page, such as:
On desktop – when a user moves the mouse cursor outside of the browser window towards the URL bar or navigation buttons
On mobile devices – when the user scrolls down a page and back up quickly
Compliance checks
Our sign-up unit builder is built with compliance in mind and automatically checks accessibility and maintains audit trails. If you receive a warning, review the following guidelines, which will help you stay in compliance. See Override an issue with ADA compliance for more details.
Note: We maintain a full audit trail so that you'll also see who within your company made the last edit on a sign-up unit.
Text size
Text size can't be set less than .625 rem to adhere to accessibility standards for legibility.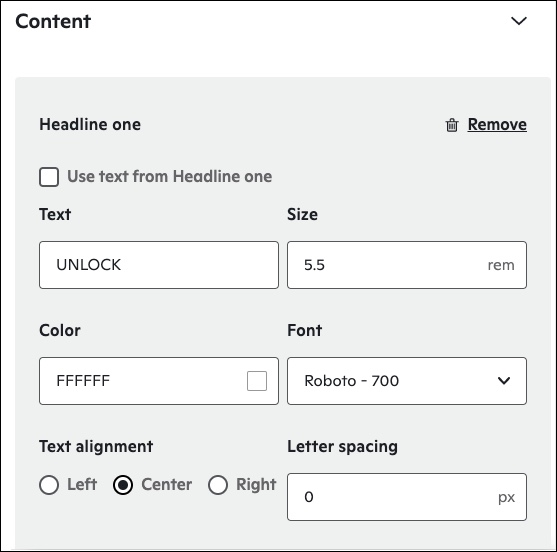 Legal language
We provide template legal language for SMS sign-up units. This was designed with legal and carrier requirements in mind. You can change the size, font, background color, and opacity of the legal language. If you would like to make changes to the content of the legal language, please contact your CSM.
Background image
When you upload a background image, your font color may contrast against several different colors in the image. Because we are unable to fully confirm color contrast against every pixel, you should check that the headlines are readable and the close icon (x) on the top right is fully visible before activating the sign-up unit.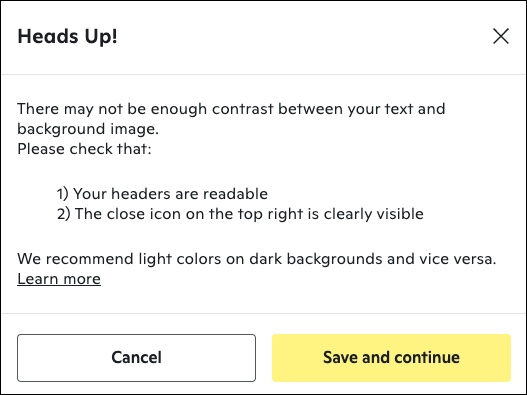 Font sizes
Font sizes are factored into contrast ratio thresholds. Attentive vets sign-up units to ensure a 4:5:1 ratio is met for normal text, and a 3:1 ratio is met for large text.
Color contrast
A color contrast alert might appear if there's not enough contrast between your text and background colors. Either color can be changed to achieve a valid contrast ratio by updating the corresponding hexadecimal code to increase the color contrast.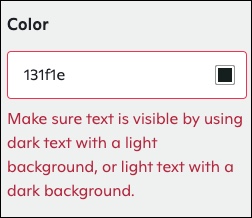 You won't be able to activate your sign-up unit until the contrast no longer triggers the ADA warning or if you want to continue creating the unit without making the recommended changes, you acknowledge certain representations and check the box that indicates that you accept the risk involved.
Invert the text color (white to black, or black to white).
Darken/ lighten (adjust) the background color by a few degrees until there is enough color contrast between the text color and background color.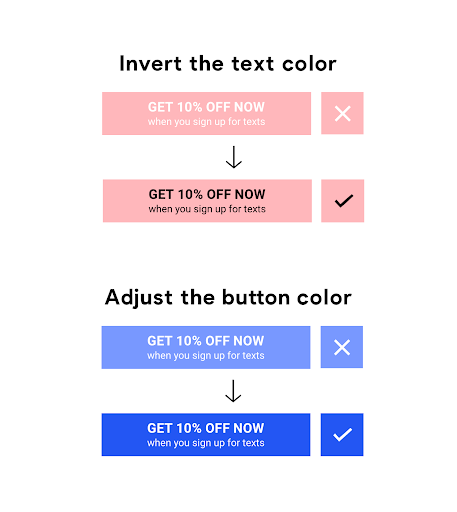 Tip! You can check the color contrast using one of the following websites and following our best practices:
https://webaim.org/resources/contrastchecker/
What is a Text-to-Join campaign?
Text-to-Join is a great way to grow offsite SMS subscribers via traditional print media campaigns like in-store signage and displays, and other online marketing channels like email, social media, blogs, and paid media campaigns. With Text-to-Join campaigns, your audience can easily opt in to receive SMS messages from your business by easily sending a keyword to a shortcode via text message.
Example: 'Text OLIVER to 1234 and get a special offer when you join our SMS program!"