Winback journeys try to win back subscribers who are at risk of churning using artificial intelligence. For each of your subscribers, Attentive reviews how many purchases they made, when they made them, and how much each transaction was worth. This data is used to estimate subscriber engagement in the future.
Once Attentive identifies which of your subscribers are the most likely to churn, they enter a winback journey, which helps push them from lapsed subscribers to active, engaged purchasers.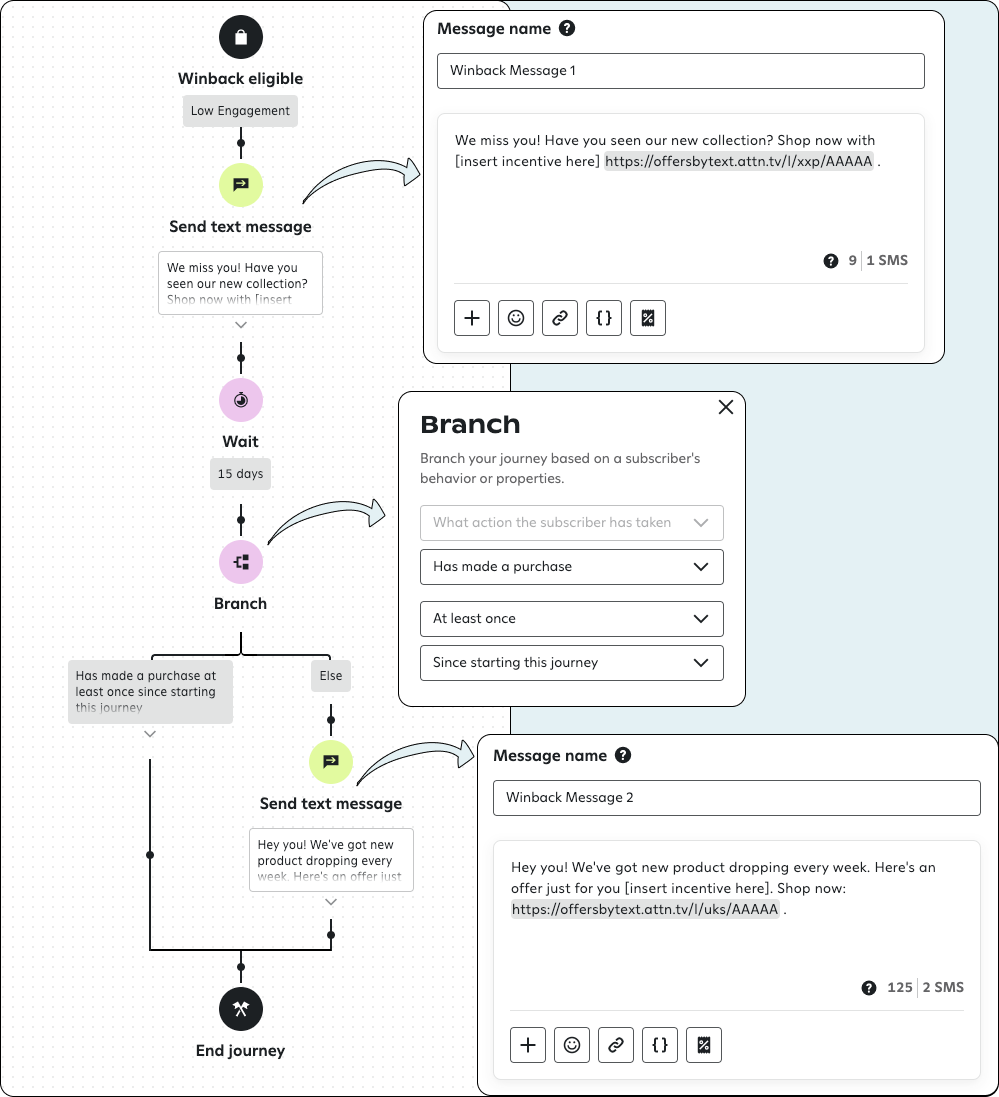 A maximum of 1% of your subscribers can enter a winback journey per day.
You should know
You can have a single winback journey active at a time. To see your winback journeys, go to Journeys, click the All Triggers menu, and select Winback eligible.
Subscribers must have made at least one purchase in order to enter a winback journey.
You can find more answers to winback questions in our FAQ.
Winback best practices
You'll get the best results if you include an offer in your winback messages.
You can use unique or shared discount codes with winback journeys, but not integrated offers like Shopify auto-gen offer codes. Because winback journeys may trigger for multiple subscribers at the same time, price drop messages could get dropped if the offer depletes more quickly than it can be replenished.
Send a follow-up message after your first, but only after a delay of ~15 days. You'll get the best results if you pair each message with an offer that escalates in value.
Create a winback journey
Sign in to Attentive, and go to Journeys.
Click Create Journey, and then select Customer Winback. A new winback journey opens.
Click on each Send text message step and add an offer to each. You can also customize the copy on each message.
Once you're finished, click Turn On in the upper right corner, and set how frequently you want to allow subscribers to enter your winback journey. We recommend leaving this at 6 weeks to help prevent fatigue.