At Attentive, we care deeply about compliance with the ADA. Our sign-up unit builder checks for issues with ADA compliance as you build and warns you if your sign-up unit has an issue.
Note: See Design a sign-up unit to learn about how to design a sign-up unit.
For example, you might use a color contrast or font/text size that may not meet WCAG 2.1 AA guidelines. If this happens, Attentive alerts you to the potential issue by displaying a warning message that can guide you to correct the potential issue.
However, if you want to continue creating the unit without making the recommended changes, you can do so by acknowledging certain representations and checking the box that indicates that you accept the risk involved.
* See the Recap of the Attentive bypass terms below for more information.
Note! This warning message will appear and you must recertify the override each time an edit is made to the unit.
Override a compliance issue
You may bypass our ADA warning, notwithstanding the issue(s) identified, if you acknowledge certain representations you are making on behalf of your company. To do so:
Certify that you intend to accept the risk involved in saving a non-compliant unit by checking the box that appears in the Heads Up! warning message.
Click Save and continue.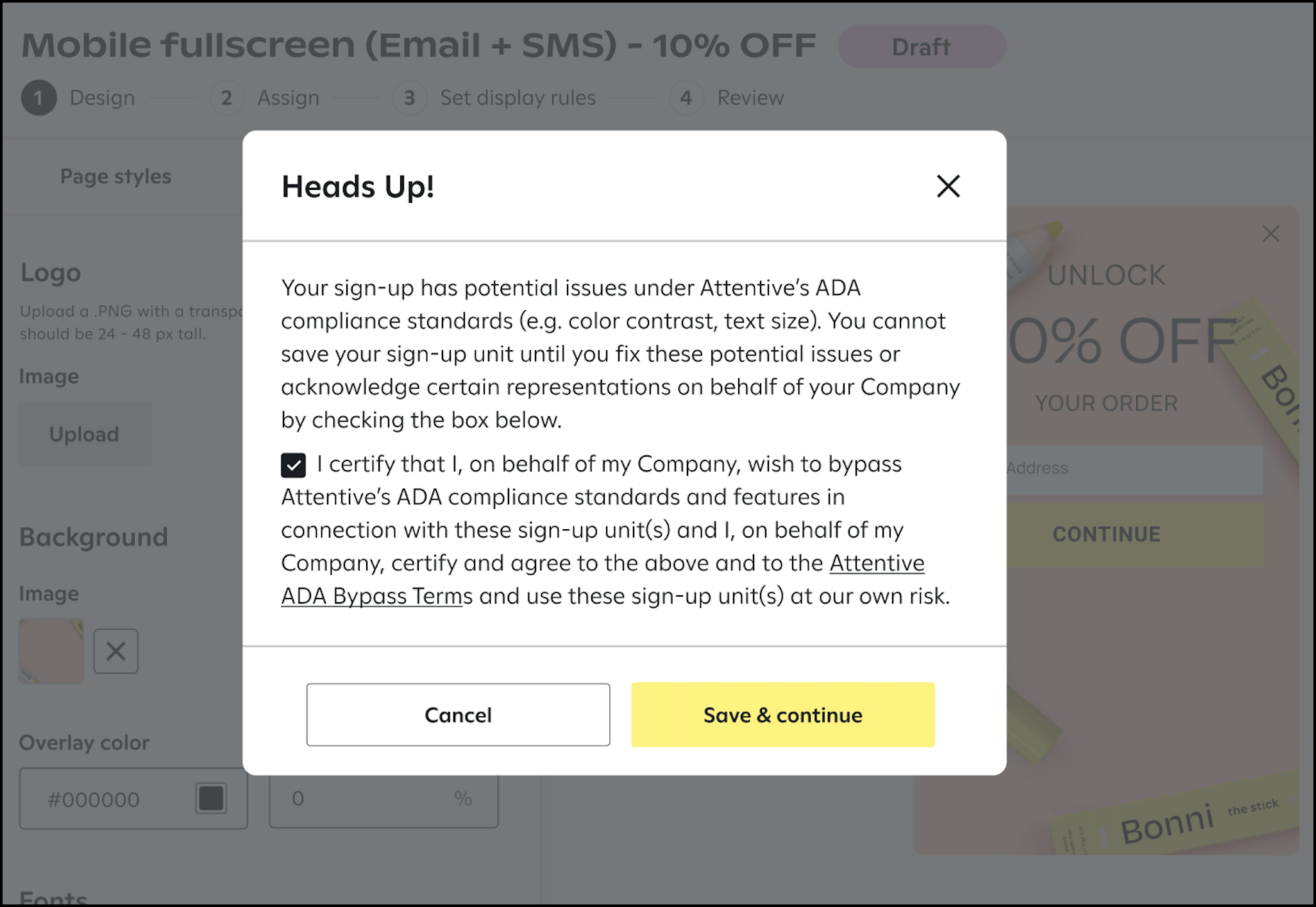 Note: Violations of the ADA (and similar state statutes) including website violations, are heavily litigated and are often brought as class actions. Therefore, non-compliance with the ADA comes with potential substantial risk.
Recap of Attentive bypass terms
By checking the box on behalf of your company, you are certifying and agreeing with the following:
You have the authority to bind your Company to the representations made here
The Company and you wish to use a sign-up unit(s) that bypasses the ADA Features in connection with services offered by Attentive ("Proposed Sign-Up Unit(s)")
Attentive has identified possible issues with the proposed sign-up unit(s) with respect to the ADA and warned the Company and you of the risks associated with using the Proposed Sign-Up Unit(s)
You acknowledge that Attentive is not offering legal advice and that you have had an opportunity to consult with your own legal counsel on ADA compliance with respect to the Proposed Sign-Up Unit(s)
The Company and you acknowledge that you use the Proposed Sign-Up Unit(s) at the company's risk
Error triggers
Below is a list of page and brand styles that may trigger an error message.
Page styles
Brand styles

Bubble page

Email page
SMS page
Success page

Background
- Color

Headlines
- Size
- Color

Headlines
- Size
- Color

Headlines
- Size
- Color

Headlines
- Size
- Color

Styling
- Background color
- Close icon color

Legal language
- Text color
- Size
- Background color
- Background opacity
- Transparent background

Legal language
- Text color
- Size
- Background color
- Background opacity
- Transparent background

Phone icon
- Color

Global styles
- Close icon color

Email field
- Background color
- Text color
- Placeholder color

Phone field
- Background color
- Background opacity
- Placeholder size
- Placeholder color

Age gating
- Label size and color
- Input background text and color
- Placeholder color

Continue button
- Headline size and color
- Background color and opacity (fill and custom styling)

Subscribe button
- Headline size and color
- Background color and opacity (fill and custom styling)

Dismiss button
- Headline size and color
- Background color and opacity (fill and custom styling)