Ideas and opportunities to help drive more revenue for your business this month.
Mother's Day
Celebrate the mother figures in your customer's' lives with a special promotion.
Use texted-a-keyword journeys to encourage personalized gift guides or product recommendations.
The day before Mother's Day messaging starts, send a conversational campaign that provides customers the opportunity to reply "PAUSE" and elect not to receive Mother's Day content.

Timely Push

: May 1st - May 14th
Memorial Day Weekend Sales
Send an "early access message" to VIP customers or active subscribers. Kick off your sale with a full-list send to to maximize revenue.
Retarget engaged shoppers and non-purchasers with an end of sale message. Use strong CTA copy such as "last chance," "limited time only," or "don't miss out."

Timely Push

: May 22nd - June 1st
Best-Dressed Wedding Guest
Tap into the unofficial kickoff of wedding season by encouraging customers to be the "best-dressed guest" for their events.
Use texted-a-keyword journeys to ask customers what type of wedding attire they are looking for this season.
Use product data to cross-sell accessories to "complete the look" post-purchase.
National Scavenger Hunt Day
Create a fun, engaging experience with your customers on National Scavenger Hunt Day using our conversational journeys.
Ask customers questions or send them on scavenger hunts on a website as a puzzle to solve. Reveal a "prize promotion" to reward those who play along.

Timely Push:

May 24th
National Sunscreen Day
Educate consumers about the importance of SPF for both overall health and skincare.
Highlight products that contain SPF in your skincare, makeup, or product lines.
Consider an A/B test of product image vs. no product image to gain messaging insights.

Timely Push:

May 27th
National Creativity Day
Celebrate your customer's inner artist. Promote products or content to boost creativity.
Use this avant-garde holiday to get creative with your tone and messages.
Gain insights by A/B testing different copy variations to learn more about what types of content resonate best with your subscribers.

Timely Push:

May 30th
Calendar
Check out our full marketing blog to learn more about messaging pushes each day.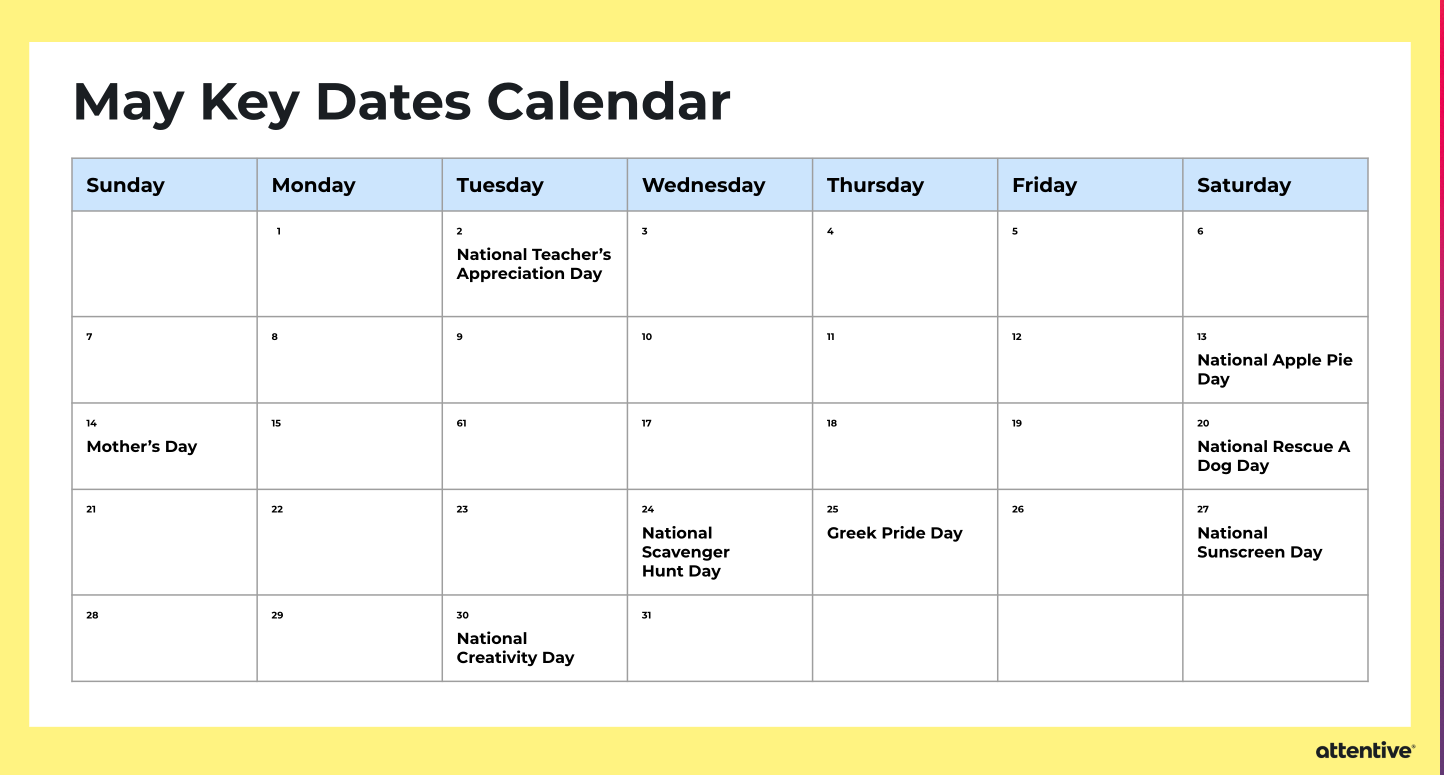 Resources