Prehook helps merchants improve conversion rate, accelerate list growth, and capture zero party data with quizzes. With a few questions, merchants can learn about their customers, such as purchase intent, interests, preferences, challenges, and more. This data integrates directly with Attentive to allow you to send highly personalized messages at scale, and improve segmentation and relevance of offers and messages.
With this integration, you can:
Prerequisites
Ensure that you meet the following requirements in order to set up this integration:
You must have an active Prehook account.
Contact our White Glove team (whiteglove@attentivemobile.com) and ask for a Sign-up Source ID for this integration.
Now, complete the following procedure to set up the integration in both Prehook and Attentive.
Set up the integration
Complete the following steps to set up the integration:
Sign in to your Shopify account and click Apps in the left-side navigation.
Click Prehook to open the app.
Click Integrations and click Connect in the row of Attentive.

You are redirected to your Attentive account.
Click Authorize.

The following message appears after authorization:

After you close the tab, the Add Attentive Integration window appears.
Enter the Attentive Sign-up Source ID (as shown in the following image) that you collected in the Prerequisites section from our White Glove team. This is needed in order to allow Prehook to automatically subscribe shoppers that enter their phone number in the Quiz.

Note: You may need to refresh the page in Prehook for the Add Attentive Integration window to appear.
Click Save.
Now that you've completed the Prehook and Attentive integration, you can create subscribers and send Prehook quiz responses directly to Attentive.
Recommend the ideal product
Prehook recommends the product best suited to the customer's needs at the end of a quiz.
After a customer is recommended a product on the website, that information is sent to Attentive as a custom attribute. A journey can be triggered based on the customer's recommended product and stated needs. For example, a series of email or SMS messages can introduce the product benefits, use cases, testimonials, user-generated content (UGC), all of which will be highly relevant to the customer as they explicitly stated what they were interested in.
See Create a custom journey for details.
Improve relevance and segmentation
All quiz responses gathered from a Prehook quiz are sent through as custom attributes to Attentive, which can be used to create highly targeted segments.
For example, after taking a quiz, a brand can segment for all customers who have dry skin, who like dark roast coffee, or floral perfumes. These attributes can be used as standalone data points to create segments, or can be layered onto existing segments (VIP, about to churn, loyallists, and so on) to personalize messages.
In the following example, you can use the Prehook custom attributes to build a segment in Attentive: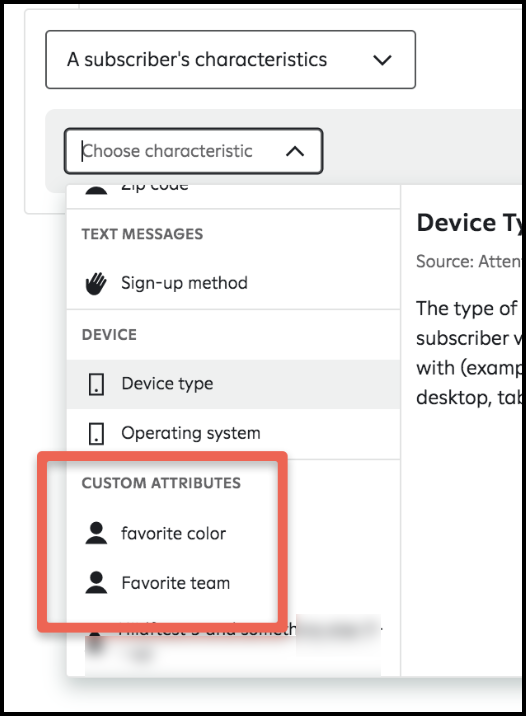 In the following example, you can use the Prehook custom event to build a segment in Attentive: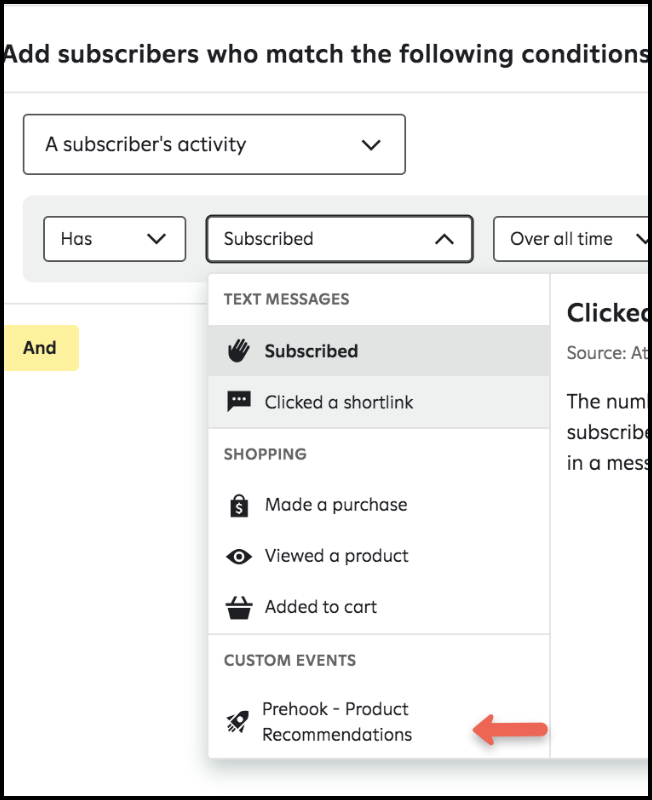 Automatically create Attentive subscribers
You can ask for email addresses and phone numbers in a Prehook quiz (as shown in the following image) to grow your list of email and SMS subscribers. When users opt in to receive messages, they're added to Attentive as subscribers. All quiz responses are stored with the contact information.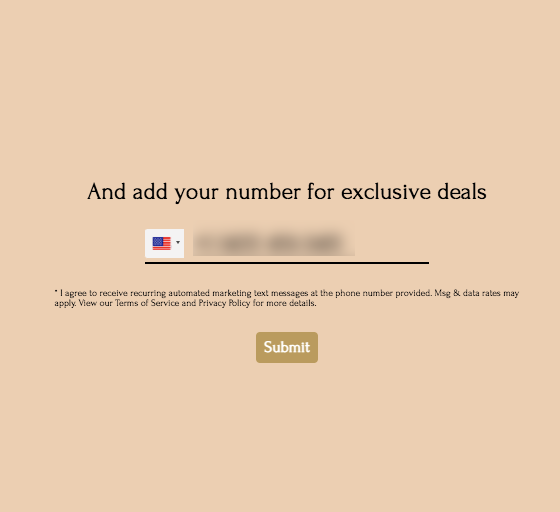 Questions?
We're here to help! Contact support@prehook.com to ask about the Attentive + Prehook integration.