This article assumes that you've already onboarded with Attentive Concierge™ and understand how Concierge works. If you haven't yet, you may want to check out the following before proceeding:
The Tone Management tab in Concierge lets you control how your agents interact with subscribers, including whether they can use emojis, the tone they should use with subscribers, and specific words they should never use.
Carefully selecting tone management settings is important as it is the fastest, easiest way for Concierge agents to understand how best to speak in your brand voice. Although you'll be able to provide direct feedback and guidance to agents after they engage with your subscribers, the settings on the Tone Management tab let you set high-level guardrails and can be a quick reference for your agents.
Emoji management
Use the Emoji management toggle to indicate whether your Concierge agents can include emojis in messages they send to subscribers. When this is enabled, you can select up to 10 emojis that agents can't use. If a Concierge agent tries to send a blocked emoji to a subscriber, the message doesn't send until they remove the emoji.
To add emojis to the block list, click the emoji icon, and then click an emoji. You can scroll through the entire list or use search to find the emoji you want to block.

To remove an emoji from the block list, click the X next to it.
Response preferences
Agent persona lets you set the name subscribers see when they have conversations with your Concierge agents. Note that regardless of how many Concierge agents work with your brand and reply to subscriber questions, they all use the same agent persona name.

Tone Response preferences let you further define the way Concierge agents interact with your subscribers and make it easier for agents to emulate your brand's voice.

You can also set the type of subscriber questions that should be escalated to you. As a reminder, Concierge agents don't have access to your Shopify store, so they can't usually answer subscriber questions about shipping, discount errors, or sizing issues.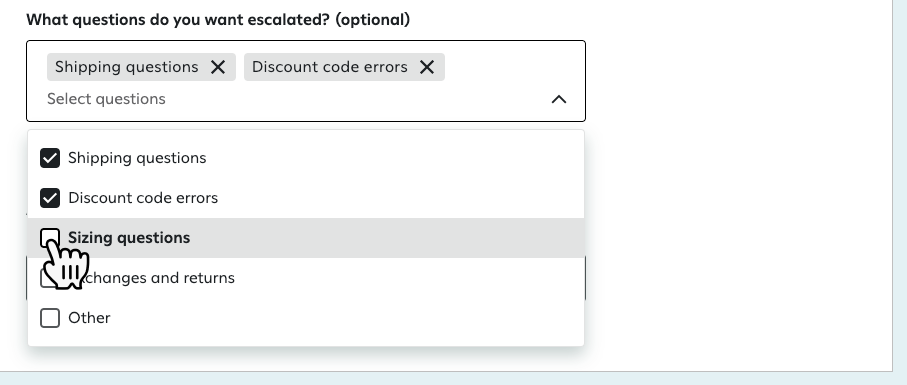 If you'd like to set other question types that should be forwarded to you instead of answered by the Concierge agent, select Other, and then add up to five question types to forward.
Block list
The Block list lets you specify up to 10 words that Concierge agents should never use when talking to subscribers.

To add a new word, type it and then press Enter.