You can create and launch high-performing sign-up units using pre-built templates, designed with TCPA and ADA compliance in mind.
Sign-up units allow your customers to subscribe to email and text alerts from your brand. They typically include a promotional offer (e.g., 10% off, shipping offers, giveaways, and more) to encourage sign-up. After customers opt in, they'll automatically receive a welcome message.
Using a pre-built template saves you time; they're pre-configured with your brand's styles, offer, and welcome message. They're also pre-programmed and optimized for audience targeting and display rules so that you can control when and where these sign-up units appear.
Before you begin
You've signed in to your new Attentive account and you're ready to create your first sign-up unit!
Attentive has already set up a template with an offer, a welcome journey, and brand styles for your text messaging program. You can create new offers and welcome journeys or edit your brand styles as needed.
If you have questions or need assistance, reach out to your Attentive Client Strategy Manager or contact the White Glove team (whiteglove@attentivemobile.com).
Choose a sign-up unit template
Click Sign-up Units in the navigation panel.
Click + Create sign-up flow.
The Create sign-up flow window appears.

Click Choose template.
Click Continue.
The Templates page appears.

Choose a sign-up unit template by clicking Start with template. There are options for the following layouts:


Fullscreen - mobile
Fullscreen - desktop
Partial screen - mobile
Partial screen - desktop
Landing page - mobile, desktop

Review your sign-up unit
After you've chosen a template, you can review the pre-configured selections, make changes if needed, and launch your sign-up unit.
Note: Don't forget that our templates are created with a default offer, welcome journey, and display rules. They also incorporate your brand styles. Take a moment to review them to ensure that they align with the messaging in your sign-up unit.
(Optional) You can choose a different incentive from the Offer (optional) dropdown.
Make sure an SMS Welcome Journey
Review the Display rules
Review the sign-up unit design. Click an element in the design to edit it.
(Optional) If you want to edit your default brand styles, go back to the Subscribers page and click Edit brand styles. Follow these instructions. Then, return to this templated sign-up unit.
Click Schedule and activate

to launch your sign-up unit. (Or, if you're not ready to launch, click

Save as draft

.)
Activate your sign-up unit
If you chose to Schedule and activate your sign-up unit in the previous step, you can now decide whether to activate your sign-up unit right away or schedule activation for later.
To activate right away, select Activate now, then click Activate
To schedule activation for later, select Schedule, then click Activate. See Schedule a sign-up unit for more information.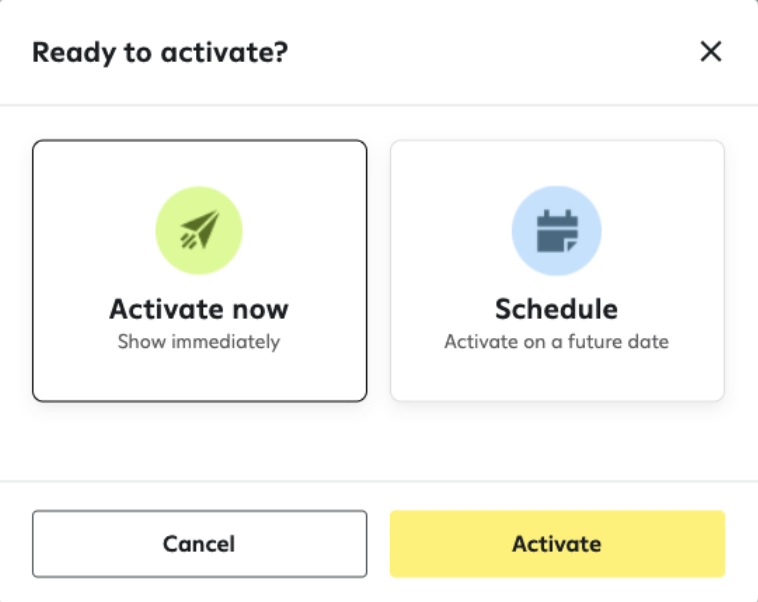 Once the sign-up unit is activated, your opted-in customers receive a welcome message from your brand.