Integrate Social Snowball with Attentive to harness the power of SMS marketing into your affiliate programs. Send custom property data (e.g., affiliate codes and links) as well as trigger events (e.g., payout sent) directly to your Attentive account.
With this integration, you can:
Create journeys targeting affiliates
Segment subscribers based on affiliate data
Prerequisites
Ensure that you meet the following requirements in order to set up this integration:
A Social Snowball account
An Attentive account
Now, complete the following procedure to set up the integration for Social Snowball and Attentive.
Set up the integration
Full tutorial: https://help.socialsnowball.io/en/articles/6690007-integrating-attentive-with-social-snowball
Custom triggers and events in journeys
After the integration is connected, you can create a custom journey in Attentive using the custom events from Social Snowball. The following table lists the available custom events for the journey: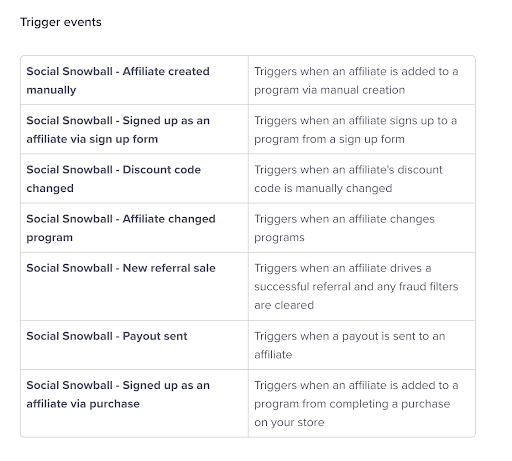 Questions?
We're here to help! Contact support@socialsnowball.io to ask about the Attentive + Social Snowball integration.